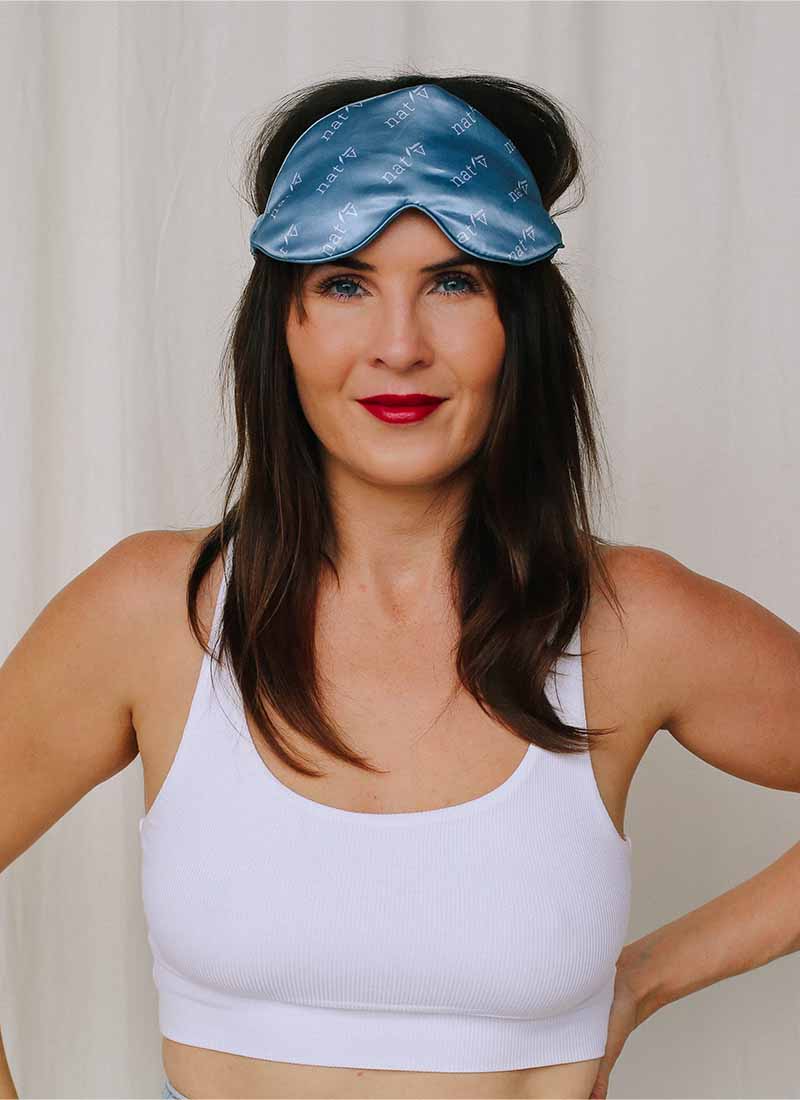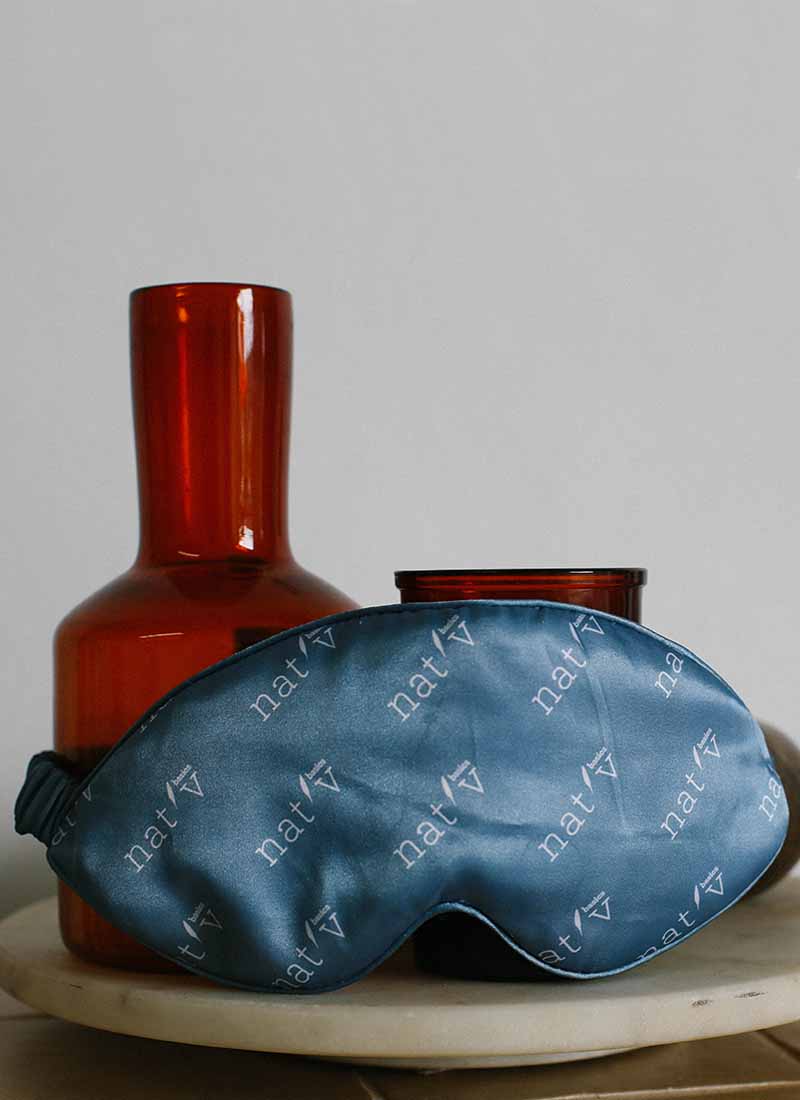 Natv Sleep Mask
PRODUCT DESCRIPTION
This is not your average eye mask, my friend.
Sure, it'll help you escape into your own little world, whether you're jet setting on a busy flight, or stealing a little 'me time' at home. But the Nat'v Sleep Mask has been made with lightweight, breathable, recycled satin, so it not only feels amazing on your skin, you can feel pretty smug about how the fabric was sourced, too.
In true Nat'v style, we've designed it with a comfort first approach. There's no hidden nasties to irritate your face, and the super smooth, satin texture means there's no wrinkle-causing-friction to worry about.

Limited numbers available so grab your mask, pop the kettle on and pair it with your favourite Classic Brief for the ultimate cosy night in!

Tip 1: Treat me delicately!
nat'v basics are made from delicate, natural fibres so place them inside a delicates wash bag, with similar colours, and they'll love you back for even longer.
Pre-rinse your leak proof Comforts in cold water until the water runs clear.

Tip 2: Warm and gentle wash.
Imagine Goldilocks was putting your wash on - not too cold, not too hot, warm and gentle is just right.

Tip 3: Mild detergent, no harsh chemicals.
These babies are already super soft, so you don't need to add fabric softener. Just a colour safe, mild detergent will do the trick - and definitely no bleach please; the girls are a little delicate and told us it stings their gussets.

Tip 4: Leave 'em hanging!
They love to feel the wind in their hair so no fancy dryer necessary for them, a simple line dry in the shade will do the trick.

Tip 5: Do not tumble dry or dry clean.
We've never met anyone (that we know of) who takes their knickers to the dry cleaners. But just in case you love your undies so much that you think they deserve an upgrade from a regular wash, we're here to tell you there's no need. In fact, they don't like the dry cleaners at all so best to keep them home (or wherever you do your regular wash) and clean as per Tip 3. They also don't like tumble dryers so stick to a line dry as per Tip 4.

Tip 6: Do not iron.
There's many reasons why it's weird to iron your undies. Prolonging the life of them is just another to add to the list.

Tip 7: Keep me trimmed.
Whatever your grooming style inside your pants, we recommend giving any rogue threads that appear on your undies a quick trim to keep them tidy and avoid threads catching.
nat'v isn't one of your average apparel brands trying desperately to tick a sustainability box. Each and every piece we design and bring to the market must align with our core values of creating sustainable garments and giving more choices for like-minded women.
We're not about doing stuff just for the sake of it; ain't nobody got time for that. When creating pieces, there are two things that need to be ticked off before anything goes ahead:
Is this better for the end user in terms of comfort and cut? Is this better for our planet in terms of manufacturing processes, materials used, carbon and water footprint? If we get two yeses - that's when we go into detailed design.
What we're striving for with everything we create is the ultimate balance of comfort, sustainability and price point, to suit all women. So, no pressure then!
read more about our sustainability practices
Quick Exchange Facts

- We do not offer exchanges on underwear due to hygiene reasons, so please choose carefully and if you need assistance let's have a chat before you order

- If you are not totally into your choice of crop or bralette you can easily return the items for a store credit, if returned within 30 days. We offer free exchanges on all crops and bralettes #winning!

- If you are sent the wrong item or a faulty item we will organise a replacement immediately with a return slip for the faulty or wrong item to be sent back at our expense

- If you have accidentally ordered the wrong item or size that's all ok, we understand mistakes happen. You will however, need to cover the cost of return postage. Once we get them back and they're in their original condition we will issue a store credit to you via email so you can jump back on and purchase the right knickers

DOMESTIC. AUSTRALIA POST

Parcel Post 2 + Days Orders Under $99.00 $8.95
Parcel Post Shipping Orders over $99.00 Free
Express Shipping Orders $14.95

INTERNATIONAL

DHL Express International Orders $40.00
International - Australia Post - No Tracking. Orders over $99.00+ Free
International - Australia Post - No Tracking. Orders under $99.00 $15.00